It's Sunday night, and I have had a really good weekend. Celebrated my Dad's 75th birthday, and spent Friday night and Saturday with a beloved cousin. It was a weekend surrounded by friends and family. And for that I am thankful.
But I am acutely mindful tonight that 17 families in Parkland, Florida, as well as their community, spent their weekend in a much different way. They spent the weekend grieving a horrific, unimaginable loss. Their world has been rocked, and their lives will never be the same.
Most of America has been tuned in to the media coverage of the shooting and its aftermath, and the name Nikolas Cruz is now cemented into our minds, just as the names Dylan Klebold and Eric Harris were cemented into our minds following the shootings at Columbine High School in 1999.
It's absolutely unimaginably devastating.
I had lunch after church today with my Bestie, and her 15-year-old daughter, whom I consider my "non-biological niece." We spent the time talking about the events of this past week, and I heard this precious 15-year-old girl talk about the impact the numerous school shootings that have taken place in the past several years has had on her. We talked about fear. We talked about how divided our nation has become. We talked about grief. And we talked about what our response should be as believers in Jesus Christ.
I believe that as a Christ-follower, I am called first to pray. And by saying this, I do not mean sending a "thoughts and prayers" response out over social media. I mean going intentionally before the Creator of the universe and pleading as though my life depends on it. For the families of the victims. For the students who were traumatized. For our divided nation. For our government. For wisdom. For compassion. For courage. For all of us.
But I don't believe that we can stop at prayer. Because we are also called to action. Jesus calls us to be his hands and feet, and this is where it gets hard. But I believe that the more we seek the heart of God, the clearer our next steps become. For me, I believe that this means advocating for meaningful gun reform. Because I believe that ultimately, violence and terror are "heart issues," but that it should be much more difficult for an individual with the type of heart issue that Nikolas Cruz has to obtain an assault rifle and terrorize a school. And as a mental health professional, I believe that I am also called to advocate for improved access to mental health services, but to also speak out about the fact that the vast majority of people with mental health issues are not violent. In fact, individuals with mental health issues are much more likely to be victims of violent crime than they are to be perpetrators. And I feel compelled to share that message as well, in an effort to avoid further stigmatization of an already-vulnerable population.
So these are my next steps – the steps I feel called to take, and the areas I feel called to action. I pray for courage and direction and wisdom – and I pray that whatever action steps I take would be motivated by love. This is a time that, as Christ followers, we can truly do the hard things and respond in a way that reflects the heart of the one we serve. May we pray without ceasing, and act without hesitation. Because the world is hurting, and the world is watching.
Well, it's 11:30pm on January 2nd, and after a rest-filled week off of work, I am preparing to return to real life tomorrow. My neighbors are taking their Christmas lights down, and my across-the-street neighbors have a deflated, sad-looking Santa in their front yard, who is just a shell of his former, air-filled glory. I'm always sad when Christmas is over – I love the lights, the music, the smells, All Things Christmas. I'm kind of like Will Ferrell in Elf when Christmas rolls around. New Years too – I love the whole idea of starting fresh each year. Basically, the holidays are generally a high point for me. So I'm a little disappointed to be saying goodbye to my neighbor's inflatable Santa and hello to my real life.
Last Christmas was a difficult one for me, and my goal this holiday season was to be present for all of the big and little things that make up the holiday season. I have much to be thankful for this year – family, friends, health, and most of all the gift of Jesus. But I've also been mindful of some smaller "nuggets" of holiday joy – little things that made me smile over the past several weeks. Some of these "nuggets" are related to Christmas and the holiday season, and some are just special things that have made me smile for various reasons. Here are some of those nuggets:
1) Hershey's Candy Cane Kisses – Oh my gosh these are delicious. I could eat a whole bag of them (and may or may not have done that). Little bite-sized white chocolate-peppermint-flavored goodness. Yum.
2) Seat warmers – Back in early October, I traded in my previous Volkswagen (named "Gideon Sparticus") for a little white Volkswagen Jetta (named "Barnabus Hope" – it's a long story). And my little Jetta has seat warmers, which are basically the greatest thing ever. It can be 6 degrees outside (which it recently was) and I can feel toasty warmth emitting from beneath the leatherette (that's pretend leather) of my seats. Makes the lower half of my body so happy.
3) Jeans at work – My workplace underwent a dress code revision this past year, which allows for jeans at work. I. Love. Jeans. – and I was practically giddy when this dress code revision was revealed. Next to wearing yoga pants to work (which I would do if I could), wearing jeans is the next best thing. A bonus is when it's very cold outside and I get to pair my jeans with my Uggs. Winning.
4) Weighted blanket – I sometimes have difficulty sleeping. I often can't seem to quiet my mind down and shut down at night (hence the fact that it is 12:07am right now and I am typing). One of my friends suggested a weighted blanket, which helps one to settle down and promotes relaxation. I ordered one and I absolutely love it. I thought I would wake up in the night feeling suffocated, but I don't. It provides pressure and comfort, while not being too hot. I have slept under it for the majority of the past several weeks.
5) Buying gifts for Madeleine – This was my baby niece's first Christmas. And I may or may not have gone a little overboard buying Christmas gifts for her. But it was so. much. fun. And watching her crawl around in her little Christmas dress was EVERYTHING.
6) Hot chocolate at work – My workplace has procured a Keurig, and somebody (who is my hero) provided several boxes of little K-Cups of hot chocolate. I have been enjoying hot chocolate at work twice a day for the past several weeks. Gaining weight I am, but that hot chocolate makes me so happy.
7) Lined gift wrap – When I wrap gifts, they end up looking like they were wrapped by a 5-year-old with no thumbs (no offense intended to thumbless 5-year-olds). Whoever invented lined gift wrap was pretty genius.
8) Star Wars – I somehow missed out on the Star Wars craze, but I saw Rogue One with some of my besties a couple of weeks ago. I loved it, and have commenced watching the Star Wars movies in chronological order (I hear that you are supposed to watch them in order of release date, but the thought of watching them out of episode order bugs me, so episode order it is).
9) Binge-watching Netflix with my Mom – My Mom and I have started a habit of binge-watching certain TV shows together. We have tackled This is Us, Blacklist and Quantico, and are right now digging into Blue Bloods and Law & Order: SVU.
10) This is Us – Best. TV show. Ever.
11) Christmas lights – I love them every year. I have bullied my friends and family into driving around looking at them several times over the past few weeks, and it never gets old to me.
So these are some of the things that have made me grateful over the past several weeks. I'm hoping that looking back at this blog post will remind me to practice gratitude in the little things, which is one of my goals for the new year. Best wishes for a happy and joyful 2017.
"Off the Deep End" is the name of my blog. It's in the web address, off-the-deep-end.com. And when I first began blogging a few years ago, I gave it that name thinking I would write some blog posts that were "deeper" and some that were not quite as deep, and some that were light and fluffy, and it would be a cute little catchy title, and I could use a little widget on the right-hand side of my blog tagging the posts "deep" or "light and fluffy" and wouldn't that be fun. I never imagined that "Off the Deep End" would be a place that I would actually visit. But that's what happened.
I have bipolar disorder. I share that with some trepidation, as I have historically been fairly guarded with that information. It's not like I have a Jen Hatmaker-sized blog following – my blog is primarily read by my close friends and family, most of whom already know about my diagnosis. But it still causes me some fear to put that information out there. Maybe because I'm a mental health professional, or maybe because there is still so much misinformation out in the world about this illness. But I have been convicted lately about the fact that I work hard in my everyday life to decrease stigma around mental illness, but I am reluctant to be open about my own. So I am sharing a bit of my story in the hopes that maybe it will be helpful to someone who is struggling, and to give testimony to the redemptive power of a God who has loved me throughout the darkest of my days.
As Kay Redfield Jamison says in her book An Unquiet Mind, "People go mad in idiosyncratic ways." For me, the descent into The Dark Place was slow at first. I have had bipolar disorder since early adulthood, but by the grace of God, my illness has always been well-controlled with medication, once I finally embraced the fact that I needed to take it regularly. There were some bumpy roads in my 20s, but I have enjoyed a great deal of stability throughout my 30s and early 40s, as medication worked well for me and I journeyed through life giving little thought to my illness on a day-to-day basis. Until the fall of 2014, when the wheels came off.
Ironically, in October of 2014, I had just received an award given by Texans Caring for Texans for the Behavioral Health Employee of the Year. It was a great, great honor, and the awards ceremony was a wonderful day for my family and me. And it's the last memory I have of The Before. In late October of 2014, I began to notice that things were changing in my mind. People and things around me began to seem far away, and it seemed as if there were a glass wall separating me from the people around me. I became unable to concentrate, lost motivation for the things I usually enjoy, and began a descent into a deep, dark, depression. And this depression progressed into a mixed episode, which occurs when someone experiences depressive symptoms along with manic symptoms – for me, these included racing thoughts, insomnia, agitation, and a feeling like my brain was literally on fire. And I stayed in this dark and terrifying place for the better part of 2 years.
My doctor tried multiple medications, and I had periods over the past 2 years when I would emerge from The Dark Place and spend days or even weeks in The Normal. I would return to work, come up for air, post happy things on Facebook. But each time, The Dark Place returned. And my journeys into The Normal became more rare, until they stopped altogether. Finally, this summer, I was hospitalized for 8 days on a psychiatric unit. It is incredibly humbling for a mental health professional to be on a psychiatric unit, yet not be the one with the keys to the door. Not be the one leaving when 5:00 rolls around. Instead, to be the one sitting at a table struggling to put a 100-piece puzzle together because my thoughts are so scattered. Yet it was here, on this inpatient unit 6 hours away from home, that my God began to heal me. That He began to work in a mighty way. I confess that my faith had wavered over the past 2 years, and that at times I had felt abandoned by God and questioned not only His love for me, but His very existence. But it was here, at Rock Bottom, that my God showed up. And I left the hospital not cured, not "well" yet, but knowing that I was loved by God and that healing was coming, if I could just hold on.
Over the past several months, I have slowly emerged from The Dark Place and re-entered the world. My doctor and I found a medication cocktail that is working, and I am slowing returning to my life. And I am finding that it is possible to not only re-enter the world of The Normal, but to possibly even enter the world of The Better. Because I have a renewed joy in my life, an appreciation for even the tiny things that make up the ins and outs of my days – a new gratitude that permeates every day and every relationship and every moment. I take nothing for granted, because I have seen and tasted The Dark and am now able to appreciate The Light in a way that I never did before.
As I think back over the last 2 years, as dark as they were, I feel a profound sense of gratitude. Gratitude first of all to my God. My Jesus redeems. He redeems it all – every moment of hopelessness, every moment of fear – he is redeeming and making meaning of it day by day. And I am able to see how through it all, He provided for me in a most amazing way. When I was unable to see any light, when I was unable to sense His presence, He loved me through His people. My people. I will never be able to express enough my gratitude to the friends and family with whom He has blessed me. Through this dark 2 years, my friends and family have loved me relentlessly. They have faithfully walked every single step of this road with me. They never gave up, never wavered, never faltered. I remember fearing that they would get tired, and I'm sure they did. But they never left me. They sat with me. Cried with me. Picked me up and took me to get smoothies, when I couldn't eat much of anything else. Cleaned my house. Most importantly, they prayed for me. Prayed without ceasing. My precious friend Mindy gave me a bracelet this past spring that says, "And Jesus saw their faith." It refers to the story in the Bible where a man who is unable to walk is lowered down through the roof on a mat to see Jesus. He is lowered down by his friends, each friend carrying a corner of his mat. And this is what my friends did for me. Day after day, they brought me before the throne of God. Carried my mat. I fully believe that when my own faith faltered, healing began to come to me through the faith of my friends. Jesus saw THEIR faith, even when my own was wavering. And I am forever eternally grateful.
So now, as I find myself on what I hope is the other side of this journey, I have a new sense of purpose. A calling to love others as well as I have been loved. A calling to bring glory to The One who never left me and who brought healing to me and who brought me out of The Dark. A desire to squeeze every ounce of joy that I can out of every moment of my life. And finally, a hope that permeates my very being and makes its way down deep into my heart and soul.
"Let us hold unswervingly to the hope we profess, for He who promised IS FAITHFUL." ~Hebrews 10:23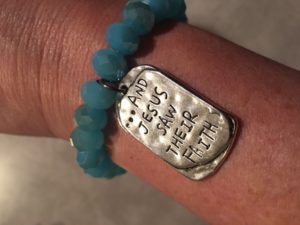 I am not currently enrolled in school, and am not employed as a teacher, principal, school counselor, school nurse, coach, teacher's aide, or anything else Academia. Therefore, the words "Spring Break" usually have little to no impact on me, as this week usually looks pretty much like any other week work-wise. BUT NOT THIS YEAR. This year, I have taken the week off from work and am in the throes of a Staycation. Today was Day One, and it was awesome. Awesome. Sweat pants were worn. Flip-flops stayed on all day. A cheeseburger was eaten, and the house was cleaned. Despite the fact that I love my job, a week off work is exactly what I need right now, and it is totally rocking my world. And as I flip-flopped around all day, I thought about some other things that are rocking my world right now:
1) iTunes Radio. I love love love iTunes Radio. I think for the most part it's similar to Pandora and Spotify, which are also awesome. I just love this concept of getting to build a radio station based on your favorite artist, and further customize it by telling it which songs you like as they are played. We've come a long way from waiting by the jam box with your finger poised to hit "Record" when your favorite song comes on. My current favorites are Matt Nathanson, David Crowder Band, Matt Maher, Gary Allan, Rob Thomas, and Mumford & Sons. I also like the iTunes Weekly Top 50 station, as it's important to stay up to date on the current music so the young people in my life will think I'm rad.
2) Sunday, March 15th, The Perfect Tennis Day. It's tough to live in Lubbock, Texas and be a tennis player in the spring. The reason being that the wind starts blowing in March and doesn't stop until June (at which time you become so hot you fear you'll perish. That lasts until September). At times, the wind blows so hard that it creates a dust storm that can be seen from space. From SPACE. But yesterday was the Absolute Perfect Tennis Day. Beautiful sunshine, light breeze, and 2 good sets. Awesome.
3) Jeans on Fridays. I absolutely love to wear jeans. That's why when my workplace instituted a "Jeans on Fridays" policy, I about did backflips. Even if it's only one day a week, those jeans feel so great. We also now have a "Jeans If It Is Snowing Or The High Is 32 Degrees Or Lower" policy, which has rocked my world this winter as well. Jeans + Uggs = Winter Comfort & Joy.
4) Baseball Season. I am a huge fan of TCU baseball. And baseball season is here.
5) The Insane Inflatable 5K Race. This was held last Saturday, and oh my gosh. 3.1 miles of inflatable awesome. Giant bouncy houses, a giant slide, inflatable obstacle courses – I just don't think an adult could possibly have much more fun. And to top it off, I got to do it with a friend I adore.
6) My 2 cats playing together. This happened for the first time this past week. After 9 months of hissing, growling, and looks that could kill, my 2 babies have decided to bond. It is a beautiful, beautiful thing. Does a mother's heart good.
Those are a few things that are making me feel all the happiness. Best wishes for a super-duper Spring Break!
I had decided a couple of weeks ago that I was going to do a blog post this week, because I haven't blogged in a long time and I miss doing it. I figured I would do a post about Thanksgiving, and gratitude, and all that I have to be thankful for. That was my plan, and I'm sure that post would have been just precious (at least to my relatives and closest friends). And don't get me wrong – I am so, so grateful for so many things. But I'm just not feeling that particular post tonight. I have some other things on my heart.
Along with everyone else in America, I have watched over the past few days as events have transpired throughout our country. I have read articles, and blog posts from much wiser and more legit bloggers than myself, and social media commentary, and comments. So many comments. Comments I wish I could un-see, and comments I am thankful I had the opportunity to read. And I am not here to add to the sea of  commentary on the events of this week – but what I find myself deeply aware of tonight is that one young man is dead, one officer's life will never be the same, two families are devastated, and people are hurting.
Many of my black friends are hurting. Whether this incident began as a racial incident or not, it has become one, and it has opened up wounds among so many. And I am grieved over this. And I am thankful that I am grieved over this, because I fear what will have become of me if the day comes when the pain of so many people does not touch my heart.
Many of my law enforcement friends and their spouses are hurting. Backlash against law enforcement has been significant, and I know many law enforcement officers who conduct their jobs day in and day out with integrity. They are at greater risk any time there is widespread unrest, and they and their families are also heavy on my heart.
So I find myself thinking, "What can I do?" As a white person who has never known racism. As a citizen who does not have to place my life at risk each day when I go to work. As an imperfect Christ follower who wants desperately to see peace and to see an end to the hurting of so many, but often feels powerless to effect healing on a larger scale. And as I prayed through this question, these are the ideas that came to mind regarding steps that I can take in my own small corner of the world:
1) Listen. Listen deeply. Listen with humility and compassion to people whose life experiences differ from my own. Don't rush to judgment. Acknowledge the pain of others when they hurt. Be mindful that I will never fully understand the path that my black friends (and Hispanic friends, and Asian friends, and Middle Eastern friends) have walked, because I haven't walked it. Acknowledge that racism is real, and that it still exists in many forms today, as much as I would like to close my eyes and pretend it doesn't.
2) Pray. Pray for healing in our country. Pray for my black brothers and sisters, whose world is still not the same as mine, as much as I would like for it to be. Pray for my white brothers and sisters, that we would pursue racial reconciliation. Pray that we would be all be brave and kind as we talk about the hard issues, and that we would listen to each other and seek to really hear, rather than just be heard. Pray for our law enforcement officers, that they would be safe, that they would have discernment in the decisions their job requires them to make, that they would be protected from harm.
3) Celebrate. Celebrate the beauty in diversity. I heard someone say recently that they "don't see color." And I think what was meant by this comment was a well-intentioned sentiment of, "I don't discriminate based on race/ethnicity." But my thought after hearing this statement was, "How sad would it be if none of us saw color? If we didn't see the beauty and the variety in our skin tones? In our hair textures? In our accents? In our cultures?" How monochromatic would things be if everyone looked like me? Talked like me? Thought like me about everything? Had only my particular set of experiences?
For example, my friend Xiomara recently allowed her young son to place colored drink stir sticks in her hair (what she refers to as her "Teenie Weenie Afro" or "TWA.")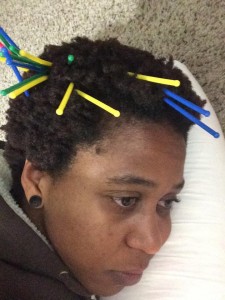 When I tried the same trick with my thin, stringy, white-girl hair, this is the result I got: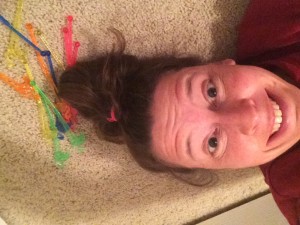 Not at all the same. In this lifetime, I will never be able to pull off a TWA. But I can admire Xio's.
We are created to celebrate each other. And to do this, we have to really SEE each other.
3). Act. I have heard a couple of people say in the past few days that true peace will never exist this side of heaven. And I understand what they are saying. But we still need to work for it. We need to work for it with everything we have. As Christ followers, we are commanded to do this. Biblically, it is not optional. Christ is the source of peace, He is the embodiment of peace, and as His followers, we are commanded to represent Him in such a way that people see love, and truth, and peace when they look at us. This side of heaven, we will do this imperfectly. But we have to keep trying. To heal with our words, rather than wound. To extend grace. To love. To hold out Christ as the ultimate healer, the ultimate peace-giver.
As I have been thinking throughout the day about Thanksgiving, I thought back to what I remember learning in school about the origin of the holiday. It just seemed relevant, and important. And I did some googling. Turns out, the first Thanksgiving on record was celebrated between the European settlers (or Pilgrims) and the Wampanoag tribe of Native Americans. The first Thanksgiving was not only a celebration of a successful harvest, but was also a celebration of racial reconciliation between these two peoples. And this is what is on my heart, and in my prayers, as this Thanksgiving rolls around.
As I prepare to celebrate Thanksgiving tomorrow, I am reminded that many of the blessings we hold most dear are born out of struggle. And my hope is that we will pursue peace, be willing to wrestle with the hard issues, and be able to celebrate progress as we take steps towards the fulfillment of Romans 12:18, where God tells us:
"If possible, as far as it depends on you, live at peace with everyone."
~Romans 12:18
Best wishes for a peace-filled and peace-bringing Thanksgiving.
I am an organization addict. I love all things office supply, all things color-coding, all things hi-liter. For many years, I held fast to my organizer, and I got a new organizer every year, so that I could re-organize in the month of December, because that was Reorganization Month. I don't have an organizer any longer, as I made the transition to Paperless Organizational System, or POS (shut up, that is so what it means), a couple of years ago. I now use iCal, and I have 7 glorious color-coded calendar categories which sync effortlessly from my computer to my phone to a fluffy white cloud full of Organization in the sky. (I also enjoy the number 7, and like for things to be in multiples of 7. Which is not relevant, but once my Crazy starts coming out, it's difficult to tuck it back in).
Historically, Reorganization Month has also coincided with Goal-Setting Month for me, and although I probably stand somewhat alone in my quirky organizer-obsessed behavior, I have a kinship with many of my fellow humans with regards to December goal-setting. I also do this goal-setting thing over Memorial Day weekend and Labor Day weekend, because every adult mentally divides their year into trimesters and re-evaluates their life on a thrice-yearly basis, I'm just sure of it (sorry, tucking the Crazy back in once again). Anyway, I have not historically referred to my Pre-New-Year-Goal-Setting-Extravaganza as setting "resolutions," because for me, the thought of making a list of "resolutions" was tantamount to establishing a list of Things-At-Which-I'm-Going-To-Fail-Quickly. Instead, I generally think about areas in which I want to grow, and changes I would like to make, and set goals that will help me achieve that growth and create new habits. Basically, resolutions. Whatever.
Over the past couple of weeks, given that it's been Goal-Setting Month, I've given some thought to my goals for 2014. And basically, I have 2. The first of which is:
1) Go to bed earlier. GO. TO. BED. EARLIER.
What is earlier? I'm not sure exactly. I'm going to need to think about it more. Which is okay, because my New Year's goals don't actually go into effect until the 7th anyway (see paragraph 1 above.) What I do know is this. This is me in the morning: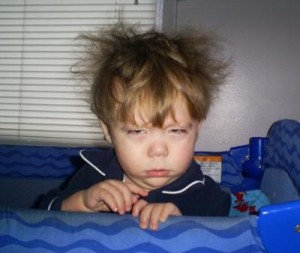 And this is me at midnight: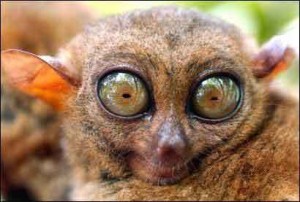 And I need to make some changes here.
2) The second goal is a little harder, a little less measurable (which is scary, because "earlier" is not exactly measurable.) But I feel like it involves an area where God is teaching me so very much right now. I saw The Secret Life of Walter Mitty today, and if you haven't seen it you definitely should. You also should probably stop reading, because I'm about to spoil it for you – sorry 🙁 Anyway, there is a character in the movie who is a brilliant photographer, and he is photographing a snow leopard, which looks like this, and is the most beautiful creature in the history of ever: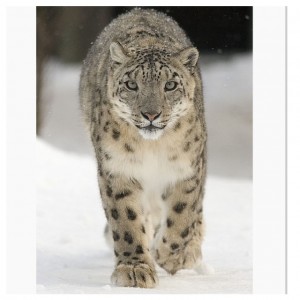 The photographer is looking at the snow leopard through the lens of his camera, and he is asked when he is going to take the picture. And he leans back and informs the asker (who may or may not be Walter Mitty) that sometimes, when he has the opportunity to be a part of a moment like the present one, he doesn't take the picture. He just takes it all in. He doesn't want to be distracted from the moment by trying to capture it with his camera. I loved this scene, as my second goal for 2014 involves a greater focus on being present. Being present in my relationships, in my job, with God, with myself even. I don't want to go through life distracted – by to-do lists in my head, by a chaotic schedule, by my phone, by ANYTHING. I have noticed over the past couple of years that I am less and less able to just be still. To just be quiet. To just be. And this is my prayer right now – for greater presence with my Savior, and for greater presence with the people around me.
Best wishes for a fantastic 2014. I hope that all of your New Year's goals/dreams/resolutions are realized. 7 times over.
"I have come that they may have life, and have it to the full." ~John 10:10
When I was a kid, I liked to journal.  I started when I was 8.  I recently located a box of my old journals, and read through some of them.  I started by reading the journal I kept at age 8, in 1980.  It is a blue spiral notebook that has "KEVIN – DO NOT  REED!!" written all over the front in black marker, which is ironic because my brother was 5 and couldn't read anyway.  I would also assign each day a letter grade.  For example, the entry for September 22, 1980 reads:
Sept. 23, 1980 – 19th day of school.  Went to school.  Went to soccer practice.  Kevin went to the fair with Little George.  Rhonda came over, then she leaved.  B+
The following year, I acquired an actual diary, with a lock and everything, because my brother was starting to sound out consonants and I feared that he might be overcome with curiosity about the ins and outs of my days.  Which went as follows:
April 19, 1981 – It's Easter.  Mom hid eggs.  Me and Kevin found them.  A+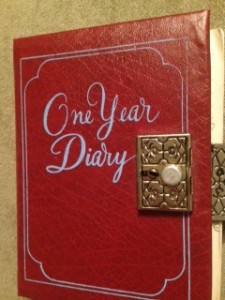 As I got a little older, my journal entries became a little more detailed:
January 8, 1982 – I went to school and got my name down in the hall for talking.  Sometimes I don't even realize I'm talking.  We did an art project with tissue paper.  Missy spent the night tonight.  We played Operation.  We let Kevin play too, but he buzzed the buzzer every time.  Then we did a treasure hunt.  We made it up.  Then we played Atari.  Atari is so fun.  It's really late now and everyone is asleep.  But I'm awake.  B-
Then 7th grade rolled around, and my journal entries began to reflect the dramatic highs and lows of a 13-year-old pre-adolescent girl in all her glory:
January 22, 1985 – Today was soooooooooooooo good.  Tim asked me to go with him.  I said yes.  I don't know his last name but he is the nicest guy in the whole world!!!  See, yesterday I told Leanne that I thought he was cute and she said that she would talk to him because they are in the same Texas History class.  Then, Leanne called me tonight and said that Tim wanted to talk to me, and so we called him on 3-way.  Then Leanne had to go because she's grounded, and Tim and I talked for another 20 minutes!!!!!  Just the 2 of us!!!  A+++++++
(Tim and I broke up 2 days later.  I never learned his last name.)
All this to say, that I have been a journaler (made-up word meaning "one who journals") ever since I was a young child.  I journaled throughout my high school, college, and young adult years.  But somewhere, around 15 years ago, I stopped journaling.  Life got busier, or I got lazier, or both.  I journal intermittently, but have not really stuck with it like I did when I was younger.  And I realized, as I was reading through this box of old journals, spiral notebooks, and Hello Kitty diaries, that I miss it, and that I'm sad that I don't do it regularly anymore.
Enter this amazing book that I have recently started reading.  It is called One Thousand Gifts, by Ann Voskamp, and if you have not read it, you're going to want to stop reading this and RUN to the bookstore and get it.  It is a beautiful, life-giving book about gratitude.  Basically, in the book, the author is prompted to list one thousand gifts that she encounters in day-to-day living (but she describes it in a much more beautiful and poetic way than I just did.)  And as I read the book, it occurred to me, "Oh my gosh.  I've sort of done this!"  And back to the journal box I went.
When I was in college, I had a dear friend named Eric.  Eric and I lived in the same dorm, and became close friends our first semester at TCU.  We would stay up late at night and talk – about deep stuff, not just surface-y college student stuff.  Eric didn't really have time for surface talk.  He had Duchenne Muscular Dystrophy, and had already outlived his life expectancy.  So when we talked, he wanted to go deep.  And one time, in the fall of 1992, we each made a list of all of our great memories, and our favorite things, and the things for which we were most thankful.  And we talked about our lists. And added to them.  And talked about them some more.  I kept my list, and continued adding to it over the years.  After Eric passed away.  After I finished college.  And then, I forgot about it.
Until now.  Now, I have unearthed The List of All the Greatness and am activating it again.  But I'm going to add to it on HERE.  Because I now have terrible handwriting.  Because typing is easier than writing.  Because we live in 2013 and it's all internet these days, kids.  But also, because people occasionally comment on this blog, and MAYBE someone might comment and share some of THEIR most awesomest things and OH MY GOSH HOW COOL WOULD THAT BE.
So, here are my first 35 things, taken from The List of All the Greatness (from 1992, except it wasn't called that then):
1)   Late-night talks with Eric in his room
2)   Pez
3)   Riding in the back of a pickup as a kid
4)   Rain against the window, but not too hard
5)   The first hot day in spring
6)   The first cold day in fall
7)   Jumping on a trampoline with the sprinkler under it
8)   The smell of my grandmothers
9)   My bed at home
10) The rose I got from David after losing that semifinal doubles match
11) The parachute we played with in elementary school
12) Mom's banana pudding
13) Doing gymnastics with Rhonda in the yard as a kid
14) My father's hands
15) Chocolate chip pancakes
16) Diving off the high dive
17) Being at the lake
18) Soccer tournaments
19) Jumping off the basement stairs as a kid
20) Singing at FCA
21) Riding in the car late at night
22) The sore feeling in your muscles after you've worked hard
23) Chips & queso
24) The good stuff Rhonda and I found in the dumpster when we were little
25) Going back to bed after 6:00am workout
26) My purple Converse hi-tops in 7th grade
27) Banana popsicles
28) Cheering in the dugout
29) Evenings in the summer
30) Hot chocolate
31) The ocean
32) A fire in the fireplace
33) The day I got baptized
34) Getting a new racquet
35) Swinging on a swingset
Ultimately, there were 114 things on my 1992 list.  These are just a few of them.  But I'm now going to start the 2013 version.  Basically, I don't want to miss any awesomeness, or any chances to be grateful for all the awesomeness, just because I'm not paying attention.
If you are a commenter (one who comments on blogs and such), what are a few of your Favorite Things in All the Land?
2012 was a landmark year for me.  I celebrated my 40th birthday in April, and celebrated 10 years of being in recovery from addiction in June. On October 23, I had the amazing opportunity to donate a kidney to my father.  It was a big year for me, and a big year for my family.  So as I drove home after celebrating New Year's Eve tonight, I found myself reflecting back over the past year, and thinking about all of the things I learned, the feelings I felt, and the experiences that made this year all that it was for me.
Amidst all of these thoughts, I find that the primary word that comes to my mind is "redemption."  I am completely and utterly overwhelmed with gratitude – enough that it honestly brings tears to this goofy, often sarcastic girl's eyes – when I think of the path of redemption that my Savior has weaved throughout my life.  I think about the period of time a little over 10 years ago when taking pain medication for a medical issue led quickly to addiction, and to a very dark and difficult period in my life.  And yet God held fast to me, not only bringing me through that difficult experience, but redeeming it, and using it in ways that I could not have fathomed at the time.  And 10 years later, I have a job that I love, working with individuals who are struggling with addiction and various mental health issues, and I see them with eyes that can see beyond the surface to the depth of their struggle – because I have been there.  I can share with others that there is hope, and there is healing – and I KNOW this to be true – because I have experienced it.  Redemption.
I think back to a time 7 years ago when my engagement to my long-time boyfriend ended, due to circumstances that were nobody's fault, but devastating for both of us.  All of a sudden, my long-held vision of myself as a married mother of 3 (2 boys, 1 girl in my mind – in that order) evaporated – or was at least indefinitely delayed.  And I couldn't imagine that God's plan involved my being single well into my 30's – that scenario in no way fit the one in my head.  And yet, I turned 40 this year as a single person, secure in my identity in Christ, and by the grace of God, deeply loved by the most amazing friends and family in the wide world.  I have found that I am happy and content as a single person, and I could not ask for a fuller or richer life than the one I have.  Redemption.
I think back to a time 4 years ago, when I learned that I would not likely be able to have children.  As someone who ADORES children, it did not seem to add up in my mind that I would not give birth to any.  Once again, I still thought SURELY God intended for me to give birth to 2 boys and 1 girl (in that order) at some point.  And yet, it was not to be that I would be a biological mother to these 3, or any other, children.  And yet.  Enter the previously referenced most amazing friends and family in the wide world.  They have not only overwhelmed me time and time again by how well they love me, but they have given me the gift of allowing me to love and invest in their children.  And while I am not a biological mother of 3, I get to spiritually pour into and nurture numerous children.  And my soul is full.  Redemption.
Finally, I look back one year ago.  To my father's surgery, and subsequent complications.  To nearly losing him.  To his initiation of dialysis.  To watching him struggle with lack of energy and fatigue.  While he never complained, his "spark" wasn't there.  Today, he has the energy of a man 30 years younger.  His spark is back.  And I got to give the gift of returned quality of life to the man who has spent 40 years giving life – in too many ways to count – to me.  Redemption.
So as I look back on a year filled with milestones, my heart is so full that I cannot possibly express my gratitude enough.  To my family and to my friends, who are life to me.  But mostly to my Savior, who has proved faithful over and over and over again throughout the course of my 40+ years on earth.  May I live a life that is worthy of the grace and redemption I have received.
Blessings for a wonderful 2013.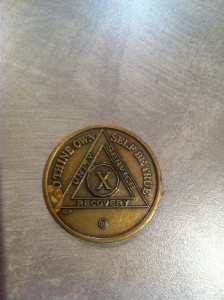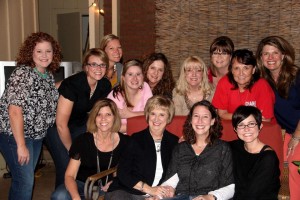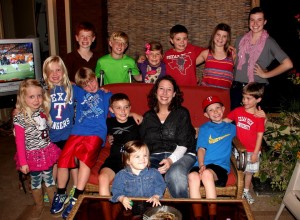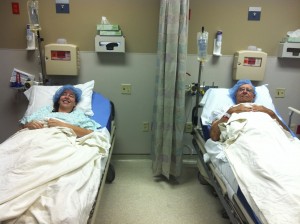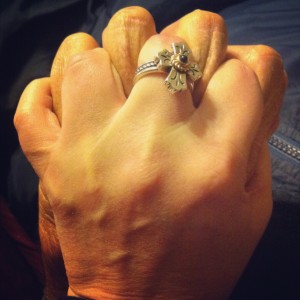 I drove to work this past Monday morning, as many of us did, feeling deeply saddened, heartbroken, and still reeling from the events of the previous weekend.  As someone who works in the mental health field, I see a great deal of suffering on a daily basis, but it has somehow seemed magnified over the past few days – with every individual with whom I came into contact, there seemed to be an overwhelming amount of sadness and struggle.  Addiction.  Psychiatric illness.  Physical illness.  Domestic abuse.   I spoke last night to an amazing group of parents and educators in a local community, who recently experienced a tragic event at their school.  We talked about substance abuse, and fear, and warning signs, and feelings of powerlessness.
There is enough heaviness out there to drown us if we let it.  And I confess that I can sometimes start to go under a little bit when I take my eyes off of the One who is my source of hope.  I needed to be reminded this week that our God is a redeeming God, a God of hope, a God of PRESENCE, who, as my friend Mark said in his Sunday message, CHOSE to be present in the midst of our mess.  He chose to do so 2000 years ago, and still chooses to do so today.  And my soul can rest in the knowledge that God is with me – is with us – even in, and especially in, the things we don't understand.
Mark posed a question during his message that reached in to the deepest part of my soul:  Will you move out of your fear towards Him?
And the answer, for me, is a resounding YES.  YES, I will take a step out of my fear and towards my Savior, knowing that my hope is not in the things of this world.  YES, I will pursue the hope of Christ like my life depends on it, knowing that only by embracing and sharing this hope can I truly impact the world around me. YES, I will choose to be present with God, this Christmas season and beyond – to be still, and to rest in the knowledge that He is ever present with me.  YES, I will choose to be present with the people in my life – to be FULLY present, and to fight against the distractions that can steal my attention.  And finally, YES, I will choose to be obedient to God's commandment of "Do not be afraid," choosing to trust in God's faithfulness and to be mindful of the many, many ways I have experienced His faithfulness in my life.
Immanuel.  God with us.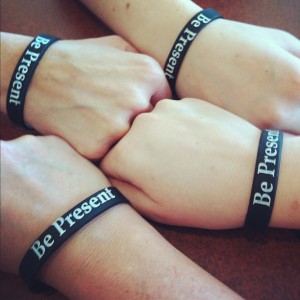 I returned from being on vacation today.  It was a great vacation – spent with some of my very favorite people on the planet.  But I came home with a very heavy heart, and with a feeling of sadness like I haven't felt in a long time.  We had a lot of downtime over the past 24 hours with airport layovers and the like, which provided an opportunity for some text, email, and in-real-life conversations, as well as some trolling scholarly review of social media.  And I find myself having difficulty sleeping again tonight.
Many people have written about this topic over the past week, and done so much more eloquently than I will.   But I feel compelled to write about it nonetheless.  Anyone who lives in America, and does not reside under a rock, has been following the ongoing Chick-Fil-A saga over the past week or so.  And even though we were on vacation and were many miles away from our local chicken franchise, my cousins and I followed it as well.  And it has broken my heart on a deep level.
It's not the comments from the Chick-Fil-A CEO, the reaction by various city officials, or the Chick-Fil-A Appreciation Day itself that have caused me to feel this heaviness.  I have various feelings about each of these elements, as it appears that most everyone does.  But what has resulted in this sense of heaviness for me is the response by the Church across various social media outlets over the past week.  This week, while the country watched, we had an opportunity to show love, grace, and compassion, and in my humble opinion, we did not love well.
Many Christians have tweeted or posted on Facebook that they are standing up for free speech or traditional marriage, and that they do not intend to communicate any disrespect to other individuals by exercising their right to express their beliefs.  And I truly believe that the intention for most people was to stand up for convictions and not to communicate disrespect for other human beings.  Nevertheless, the events of this week left my precious and dearly loved gay and lesbian friends, who are infinitely valued by God, feeling devastated, rejected, devalued, and heartbroken.  Some were brought to tears.  And whether or not the communication of hate was the intent by the majority of people, it was the perceived effect.  And this matters.  And yet, rather than meeting people where they are, acknowledging their feelings of hurt, and demonstrating compassion (all of which can be done while still exercising the right to stand up for one's convictions), many Christians flooded the airwaves of Facebook, Twitter, and Pinterest with pictures of them jubilantly holding up a chicken sandwich, or statements such as, "Wow, the line is all the way around the corner!" (which can be loosely translated as "Wow, look how many people are on OUR side!")  People entered into debates which at times became mean-spirited and hurtful, made statements that were smug and self-righteous (some even followed by "LOL" or "HAHAHA"), while real, live, flesh-and-blood human beings experienced real, live pain.  And I struggle to see how Christ was honored in this.
Many Christians did not participate in this behavior, and many exercised their right to show their support for a company whose values are similar to theirs, and did so in a peaceful and respectful way.  But there was a lot of damage done this week.  It appears, once again in my humble opinion, that the gap between the Church and the gay and lesbian community was widened, and I have yet to speak to or run across one person who was drawn to the love of Christ by our actions this week.  As a mental health professional, I am reminded of the fact that gay and lesbian teens attempt suicide 4-6 times as often as straight teens – which translates to the fact that a large number of today's youth would prefer to end their lives rather than go on living in a world they perceive as devoid of hope.  I cannot imagine that this does not break the heart of God; and therefore, it should break our hearts too.
As Christians, we are called to live according to a Biblical standard.  And we seem to be very good at taking a stand on various issues and standing up for our convictions.  However, it seems that in the area of loving people the way Jesus loved people, we need a little work.  I find myself wondering if we as the Body of Christ would stand in line for several hours in the hot sun to sponsor a child through World Vision or Compassion, or to care for the poor and the hungry, as Jesus repeatedly commands us to do.  We cannot ignore the fact that over 20,000 precious, created-in-the-image-of-God children died from starvation in the 24-hour period that was Chick-Fil-A Appreciation Day, and I ask myself where the outrage and passion is over this issue, which is so clearly close to the heart of Jesus.  I have read the phrase "love the sinner, hate the sin" several times this week – and it makes me wonder whether we see other issues which are clearly identified as sin in the Bible (pride, arrogance, greed, gluttony) as being as worthy of our time and attention as we found this issue to be this week.  Given the fact that we all struggle with sin as part of the human condition, do we hate the sin within ourselves enough to allow ourselves to be transformed by God into the loving people who can truly change the world?  My prayer for us as the Church – and for myself – is that we will hold fast to the truth of the Bible, while never placing a position or an issue above human beings.  That we will dedicate our lives to loving in the way that Christ commanded us to love, when He told us that the greatest commandment is to love Him, and the second greatest commandment is to love our neighbor.  If we can love like this, God truly can change the world through us, and we can make an eternal difference in the lives of our fellow human beings.  If we can't, then we're sort of reduced to being just (wait for it)…chicken.